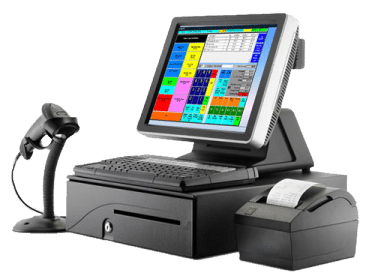 A POS and retail management system for large retail stores with up to 99 POS stations a dedicated server and multiple back-office computers to ensure smooth running.
Here's what you get:
Up to 99 POS computers with all required hardware
Fast and powerful POS stations come with all required equipment including thermal receipt printers, thermal printer paper rolls, laser scanners, cash drawers and laser printer.
Dedicated server with as many back-office computers as required
Separate back-office computers keeps your administration functions and valuable data away from the busy POS area.
Your back-office system can also be accessed securely from any internet connection – from home or while travelling.
Powerful retail management software
Software licenses for POSActive's POS, BackOffice and HeadOffice.
POS – quick and powerful so you can maximise every transaction.
BackOffice lets you blitz through admin tasks quickly and easily with automated processes for common tasks like re-pricing, product ordering and bookkeeping to minimise your labour time.
HeadOffice remote access means you can complete BackOffice tasks from somewhere comfortable, like a café or your own home.
Also included: Windows 10 software licenses
Multiple layers of protection give you peace of mind
POSActive's standard double-POS solution gives your business a secure, robust and reliable system you can count on
System redundancy means your POS can process sales regardless of anything that happens to the back-office computers or servers.
Separating your back-office and POS keeps your data safer.
Smooth Installation
Delivery to anywhere in Australia
Data extraction from your existing system and conversion and insertion into your new system (if required)
System setup, self-install kit (optional on-site setup)
Full training
Outstanding support
12 months software updates and support via phone or email. Real people support lets you get on with business quickly.